Legions of ravers may know the name Superstar DJ Keoki from the portrayal of him in the movie Party Monster. But in case you don't know (or haven't seen the movie—bad raver!), Keoki Franconi is a legendary OG who has been in the game since the Disco 2000 parties at Limelight in New York City (watch the documentary on that, too). DJOYbeat caught up with Keoki while he worked on new productions to chat about his recent nightclub venture in Houston, his infamous career, notorious club kid Michael Alig's release from prison, and assless chaps.
The big news right now is you've opened a new afterhours in Houston, Texas. How did that come about?
A friend of mine I've known for about 10 years owned a club called Via. In October, his partner had to drop out, so he was left by himself and was looking at maybe having to close the club. I came out to play for him in November and saw what was happening. He really didn't consider that I might want to be a part of it, but I saw an opportunity, offered my help and he accepted. We became partners in the club,  helped him revamp it a bit with more sound and lights and reopened in January. It's an underground afterhours club and it's centered around music. We've had Frankie Bones, we have Charles Feelgood coming up, Nigel Richards, The Crystal Method and Pig&Dan. We want to put Houston on the map for that.
Will you be spinning there, too?
I'm there almost every day. I've never owned a club before, but I've been in nightclubs for about 28 years. I know the cool clubs always have cool owners and I'm hoping our club is gonna be cool. I try to make an impact with the music more than anything, but I'm trying to be hands-on with everything at the club and be a part of it. I play almost every night—I either open or close—and I play Friday nights.
For newer clubbers that don't know much about the history of the scene, how would you describe your career evolution?
Music's always been a part of my life; music's always been the only thing that saved me from everything else and the only thing that's never let me down. The club that I first started going to in New York that was afterhours was called Save the Robots. Via is almost an exact copy of what that club was like in the underground, very selective at the door, has the most cutting-edge music and the coolest people in it. It was really not about making money, it was more about having a really cool party. That's kind of what I'm bringing to Via.
What do you think about the direction clubbing culture has taken in recent years in America?
Dance music culture has gone nowhere. It's a shame. You go to any event –I went to Ultra last year—and I was disgusted. Everybody is fist-pumping in the air and it's all noise pretty much. There was no dancing, there was no rhythm—any rhythm that I found or heard was rip-offs from the '80s or mashups or whatever and it was such a letdown, really. … I always say that I'll stop DJing and making music when I find that this isn't exciting anymore to me. But there's so much good music out there and there's so many talented people that isn't getting through because of the American music machine. … The ones that want to put the work in and have been around, the veterans who have done the work who have been there and aren't jaded or haven't given up need to do something about it. That's what I'm trying to do. I feel like it's my job to do it.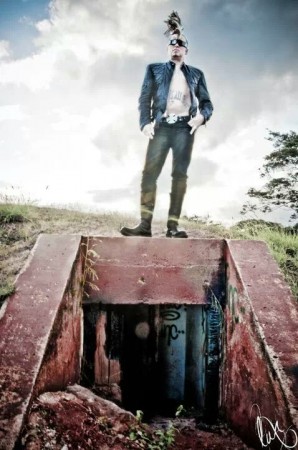 To what can you contribute to your longevity in the industry?
I never really sold out [laughs]! There was a couple of times I wanted to give up DJing, then something would happen and I'd find the music that I like. One example is the electroclash movement. I previously went into any record store to buy records and I'd be like, "Okay, give me one of each of the top 10," buy those records, go to the next gig without even listening to the records, I'd play them, I'd get paid and it'd be awesome—supposedly. But I wasn't feeling awesome. I thought it was wack. Then I found a really cool record called "Space Invaders Are Smoking Grass." So I started looking for more records like that and then I'd go to the record store and spend a few hours there and only come out with three or four records. It got me into music again. That kind of died off and I got into dark, minimal house music. It always goes back to house and techno.
Since you're technically the original superstar DJ, what do you think about these DJ/producers touted as "Superstar DJs" today?
They get paid a lot better [laughs]! Their megaphones are loud, but I'm not sure if they're really ready to say anything into those megaphones. For me, I've always felt like if I opened my mouth to say anything, people would listen, it's like a megaphone. I'm not sure that any of these artists—I don't want to name any one of them specifically—but I'm not sure any one of them understands how much power that is or how much of a responsibility that can be or how much they can do with it. It's almost like they just sit back and collect the money, do their gigs, and not really anything is coming back.
What's been the most memorable moment in your career?
I'd have to say Disco 2000 in New York City where it all started for me. It seems like such a short time, six years DJing at this place every Wednesday. No matter what, I was there. I really didn't get paid anything the way it worked out with the budget Michael Alig had, but I was loving every moment of it and it was not for any other reason than I love the music and being there.
To go off of that, what do you think about Disco 2000's former home, Limelight, being turned into an IHOP?
[Laughs.] I think it's funny. What can I say? It's just a building, but the memories are there. I did go there when I was in New York a few years ago and it was a mall. I walked through it and it was kind of funny. But for the most part, it's just a building. … Your memories are what you have; your connections and people you know in your life are the most important things.
Speaking of memories and people you know, Michael Alig (who went to prison for the murder of club kid Andre "Angel" Melendez) may be granted parole this year. Do you have any thoughts on that?
I think it's great. I used to cringe when people asked me what I thought about Michael with him being in jail and all that; I didn't know what to say. But I've been able to come to terms with that. Michael was the most incredible person I ever met. And he also did the most fucked-up things I've ever experienced in my life. So for him to have lived through it and spend his time in jail and all that? I'm happy for him, to be honest. I'm happy that he's getting out, I'm happy he's alive and I'm happy he seems to have the same spirit. He's still funny and he tweets his little comments every now and then and I respond to him. It seems to be he's in the same kind of humor and spirits he was in way back when. I'm hoping that everything goes well for him.
What's the best outfit you've ever worn for a gig? There was that assless chaps phase.
[Laughs.] I think it would have to be my assless chaps. Every time I came to Texas I would wear the assless chaps as a joke. "My ass is out in where the president is from!" I'd have to say those were probably the most fun.
Follow @DeannaRilling on Twitter for her veteran musings on electronic music.