Miami is going to be blue during the Winter Music Conference this year—Sydney Blu that is. The talented Canadian-born Blu, who initially garnered attention as the first and only female producer to have a top 10 track on Beatport, celebrates the fifth anniversary of her Blu Party on March 25 for a whopping 18 hours of music! DJOYbeat caught up with Blu to chat about why the event held at the Clevelander South Beach (bring your swimsuit) is a must for music lovers in a week saturated with parties. Oh, and as a bonus, we've got a pair of tickets you can enter to win. Get hyped.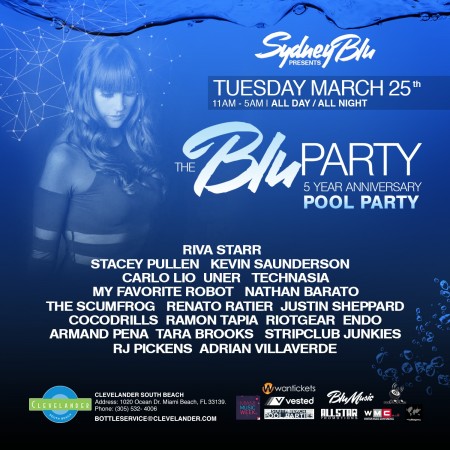 For people still locking in their Miami plans, why should they add the Blu Party to their itinerary—or cancel other plans to attend?
I definitely recommend it because I think we have one of the best techno and house lineups all week. I'm really proud of what we've put together; the talent is unbelievable. I'm so honored that all these artists wanted to play for me and were excited to be a part of the event. I think that the music is going to be incredible. It's an 18-hour party! … I think the music is the best we've ever had.
Who are you most excited to hear on the lineup?
It's a tossup between Riva Starr and Stacey Pullen. The reason why is because I saw Stacey Pullen last year at DEMF—the Detroit Electronic Music Festival—and he was so amazing, possibly one of the best sets I saw in 2013, period. I'm really excited about Stacey, he's just an incredible DJ. And also Riva Starr, I've seen him live quite a few times as well and he's always amazing. I think his music is more along the lines of what I play, so I'm excited for him as well.
18 hours. Are there people that show up at the beginning and stay all the way through until the end?
I hope! That's the point, right? We want people to be there from the moment it starts to the very end. I'll be there from the moment it starts until the very end so the more people that will stick it out with me, the better!
There's practically hundreds of parties in Miami during WMC. What do you feel sets your party apart?
I find that on Tuesday, there isn't really a lot going on yet so I've got this really big party you would normally see maybe on a weekend. I think we have a lot of original acts. I know people have a lot of techno DJs and a lot of them have deep house, but we've got such a range of talent on it. From Riva Starr, who's plays amazing tech house, to Detroit old-school legends like Stacey Pullen, Kevin Saunderson, hot acts right now like Carlo Lio, My Favorite Robot, Nathan Barato, etc. Even The Scumfrog, who is such a legend himself and had one of my favorite Essential Mixes of all time dating back to 10 years ago. It's such a range. Everybody who is doing parties this year, it's all about who's the hot act right now. I feel like this is kind of—we have everything. We have house, we have tech house, we have techno, we have old school, new school. I feel like we're appealing to everybody.
For those that can't attend it'll be live on COCO.fm. Why do you feel it's important to have a broadcast of this event?
100 percent I want to do it for people who can't make it to WMC because I have so many friends from around the world who couldn't be there and I'd love for them to be a part of this as well. … The fact that we have that ability now, it gets people more excited and I think it helps with [generating] more buzz. Maybe we can bring my Blu Parties to another part of the world.
What else is on your party itinerary for WMC?
I'm playing a bunch of other parties. Electric Beach [at Nikki Beach] on the 22nd. I'm playing the Bullitt Mixer, which is going to be incredible. That's with Deep Dish and Hot Since 82, Steve Lawler, Dyed Soundorom, Appolonia—incredible acts. Our whole roster is playing that. That's at the Clevelander on the 27th. I'm also playing Ultra Music Festival on the 29th and the 30th at Nikki Beach for David Tort's party as well. So quite a big schedule just for me!
You know you wanna go to the Blu Party! Enter to win tickets here.